Andy Winter BHT Sussex CEO "thank you very much this I think is my last dance in my my role as I retired in January after 37 years at the BHT Sussex, so it's it's great to end on a high. I think at this stage my focus will be on homelessness and the prevention of homelessness um but first a question why are we discussing this today in fact why do we need to discuss those two questions. I've just realised why do we need to discuss this is because in one of the richest cities in one of the richest countries in the world, when some people have so much, we have people without a home and we have people sleeping on our streets? and others who are facing homelessness, poverty and destitution."
Andy Winter Continues "Homelessness is not a natural phenomenon it's most unnatural, it is an engineered byproduct of a political system that continues to fail and it has never failed as much as it has in recent weeks. 37 years ago when I started a PhD in Sussex there were roughly talking very generally you have five different cohorts of people who would come to us looking for a service they were Care leavers, they were people escaping violence and abuse in the home, there were people with alcohol and then later drug problems those with mental health problems and ex-service personnel.
Today the same five cohorts are presenting themselves on a regular basis to our services but there is a sixth group who we hadn't seen until the introduction of austerity in 2010 there were people who find themselves homelessness purely for economic reasons people who in a hundred years never thought they would need a service from an organisation like ours."
"They're people who might have been in relationships and the relationship breaks down and one of the partners moves out thinking they will find somewhere else to rent only to find that the rents in city like Brighton and Hove are completely beyond their means, We have people who come to our day Center First Base who are sleeping in their cars, they come they have a shower and then they wash and put clean and dry clothes on.
I put the kettle on and I get some food out of the cupboard for breakfast but if you had slept on the streets of Brighton last night there is no toilet, there's no shower there, is no Kettle there, is no food, food and cupboard."
Andy Then said:
"Fortunately there are some brilliant services in Brighton who do support people at the lowest emergence places like The Clocktower Santuary, Off the Fence, First Base Day Center, Sussex Homeless Support. Through a special word should be mentioned, who were outstanding during the lockdown, supporting people in the hotels and I don't think people would have survived that if it wasn't for that exceptional organisation and there will be others represented here today and I apologise I probably missed naming you and we can you can beat me up afterwards."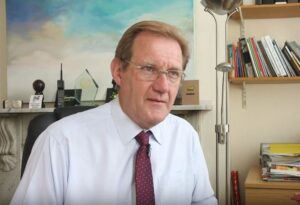 "We need to stop people getting onto the streets in the first place, last year through our advice and support services, we prevented 1777 households from becoming homeless, 506 of those were in Brighton Hove, over a thousand were in East Sussex and a few in West Sussex we run a Court Duty Scheme in the Lewis, Brighton and Hastings County Courts where people who are facing losing their home will arrive very often never having not spoken to anybody that they were on the verge of homelessness."
"The concept of homelessness that people who have never had advice that there are people who arrive with a bag full of unopened envelopes from their mortgage company from their landlord or whatever and they don't know how the court system works, they have just received a summons fortunately the court actually will direct them to our solicitors and our advice workers in the court who will then take an immediate instruction from them and seek a deferment, sometimes it'll be an hour or two sometimes it might be for two or three weeks.
We can then take a good proper review of the legal merits of their case um and we can then protect them from homelessness, so the bulk well not the bulk the majority of the cases, 688 cases we're through our Court Duty scheme."
Andy Winter Continues "our advice services, we do a lot more than that BHT Sussex has the first base day Center as I mentioned we have Phase One Project, Addiction Services, a range of mental health services including Shorehouse, that has been in use recently because of the situation.
There are other amazing organisations I've already mentioned, Sussex Homeless Support this is Saint Thomas, Rise, St Mungos, Sussex Nightstop, YMCA and I know I've missed some out again and again I do apologise if I haven't mentioned your service none of us are perfect some of us are a long way from being perfect."
We're (BHT SUSSEX) aware of that we always try to improve we try to get feedback to see what have we done have we not done as
well, as we should be I've run out of time I need to stop, I will finish off with four very brief things:



We need to act on behalf of our clients without fear of favour
We need to ensure that there are no delays of even one hour from helping somebody off the streets

We need to campaign jointly for the building of council houses in their hundreds of thousands and;

We need to campaign for the end of the right to buy we need to demand more from our political leaders and challenging what they're doing to end the scourge of homelessness.
Andy Concluded;

"There is a Latin American priest who I would quote by doing this we might make ourselves very unpopular but this priest doesn't hold a commodity, He once said "When I feed the hungry they call me a saint, when I demand to know why are they hungry, they call me a communist."
So whatever the damage to our reputation we mustn't hold back, we must be proof of your power."
— Andy Winter Speech Concluded —